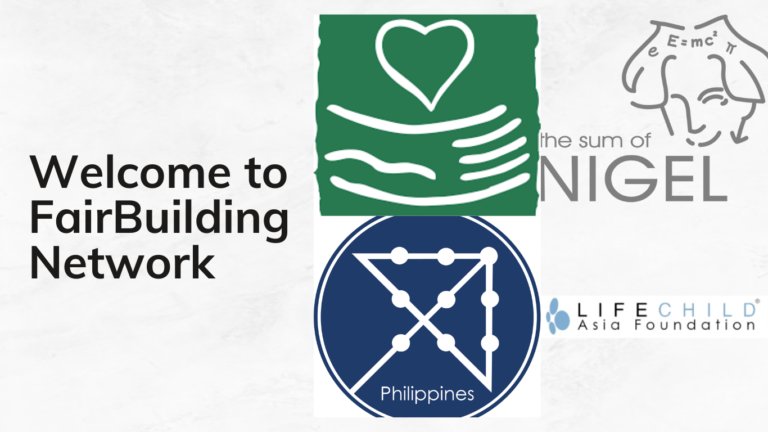 This month, four new non-government organizations have partnered with FairBuilding Network and have become part of the growing network of FBN's Social Building Partners. FairBuilding Network seeks to help these new partners in their construction and development projects wherein different communities that they are advocating will benefit. Among these 4 new Social Building Partners are: Care Channels Incorporated – Philippines, The Sum of Nigel, ACTED Philippines, and LifeChild Asia Foundation.   
Care Channels Inc.- Philippines  
Care Channels Inc. Philippines is a non-profit organization that works with marginalized communities in Asia. Its mission aims to promote development efforts through livelihood, education, and health. Currently, they have 1000 participants in over 69 communities all over the country. At the moment, they have a development project in their agricultural learning site in Mindanao.  
The Sum of Nigel  
Bright young siblings, Nigel and Sophia Jeon co-founded TSON for the delivery of educational equity and high-impact projects in the country. They aim to make an impact by providing free STEM education and career readiness programs, and college completion campaigns. Currently, TSON has partnered with one of our existing Social Building Partners, Espoir School of Life, to increase focus on economically deprived communities by granting opportunities for free education to the children of Siargao Island.   
ACTED Philippines  
ACTED is a non-governmental and not-for-profit organization for international solidarity that has a vocation of saving lives and supporting communities in far-flung areas. ACTED uses its expertise in disaster response and reconstruction of shelter and WASH infrastructures to help our disaster-stricken communities in areas vulnerable to typhoons and earthquakes.   
LifeChild Asia Foundation  
Located in the countryside of Silang, Cavite, LifeChild Asia Foundation is an orphanage that has children's homes for rescued orphans and street children in the urban streets of Manila and its surrounding cities. Soon, they hope to build different facilities such as a community basketball court and playground for these kids to improve their way of living.   
With visions of uplifting the underprivileged sectors of this country and supporting the vulnerable, FBN continues to give a helping hand to our Social Building Partners for their construction projects that are vital in fulfilling their advocacies. Through these new partnerships, we, in FBN, commit to improving the livelihoods of the underprivileged part of society, one project at a time.