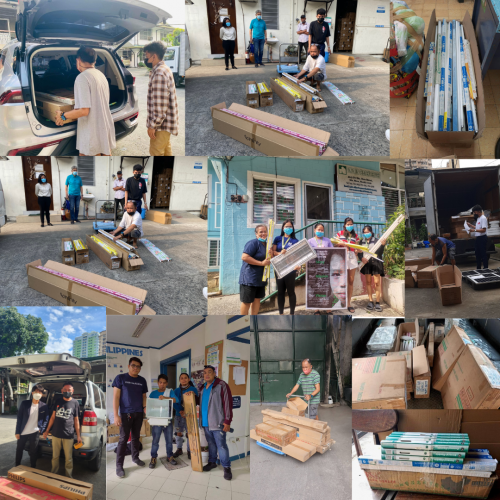 Summex Trading Corp. successfully donated more than Php 125,000 worth of lamps, lights, and other lighting materials to 12 Fairbuilding NGO Partners. With slow-moving materials that are now non-ideal for the market but are still in good use, Summex generously donated them to the NGOs that have ongoing construction projects. The following Social Building partners and their projects were able to benefit from these items: 
Foundation for These-abled Persons Inc. –

repairs and renovations of their housing projects and training center

 
Bahay Tuluyan –

repairs and maintenance of their five (5) properties across Luzon

 
CCT Kaibigan Ministry –

improvements of the resettlement site's gates, street lights, and other facilities

 
Aejhan Learning School – repairs and improvement of classrooms and activity area

 
E&V Water and Life –

maintenance of existing water networks as part of their WASH response to urban poor communities

 
Linkbuild – – construction of low-cost housing projects and general lighting for its living spaces

 
Hospicio de San Jose – improvement of the residents' dormitories

 
Vincentian Foundation –

construction of their 2- model housing unit

 
Concordia Children's Services –

replacement of lighting areas in their child-caring agency office

 
Good Neighbors – construction of a daycare center in a remote community

 
Fair Shot (Action Group for Educational Equity) Inc. – repairs of the animal rescue shelter 

 
ASKI Foundation – replacement of school's damaged light bulbs

 
Summex Trading Corporation is a lighting wholesaler with an office based in Bulacan and a warehouse in Pasay City. Since then, Summex has been liberal to make transactions with our partner NGOs in terms of the needs of lighting materials in their construction projects. On behalf of the 12 NGOs, FBN gives a big shout-out to Summex for supporting off-the-radar projects through their products and services – a more sustainable approach to making a difference!