In November of 2020, the Philippines has been devastated by 2 powerful typhoons locally named, Rolly and Ulysses. The 2 typhoons have left trails of destruction and affected millions of people in 8 regions of the country, leaving over 23,000 individuals displaced in evacuation centers while over 46,000 individuals are left displaced outside evacuation centers.
While emergency response by the government has been outright, a lot of country-based humanitarian organizations and non-profit organizations has also launched their own responses to provide immediate help to the affected communities. This has led the FairBuilding team to also launch a fundraising initiative called, "Sponsor a Hygiene Kit".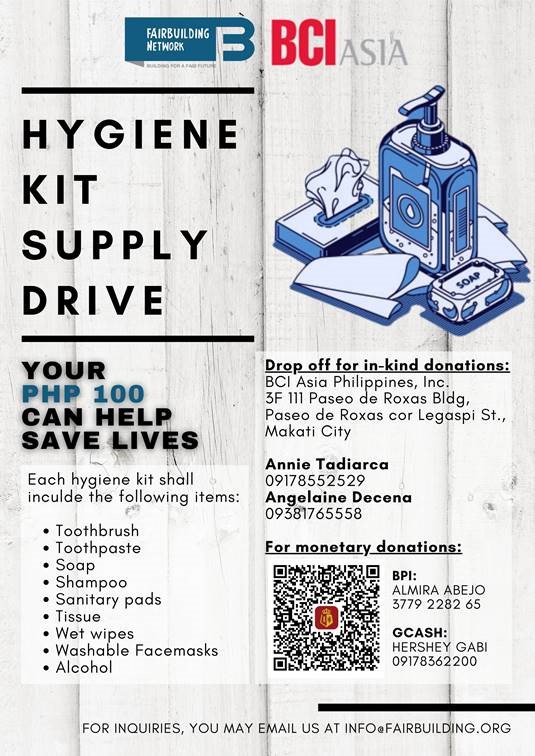 The objective of the fundraising is to be able to distribute "hygiene kits", which is a necessity for displaced individuals. Personal hygiene is one of the top needs for people struggling to obtain reliable sources of food, water and shelter. The hygiene kits will offer that first line of defense against the spread of illness given the pandemic, a first step toward good health, and they also provide tangible hope for those who are suffering or recovering from the recent disruptions. The beneficiaries of the hygiene kits will be the families and individuals who are supported by nonprofit organizations which are also members of the Fairbuilding Network.
With the generosity and kindness of Matthias Krups, BCI Asia Philippines and its staff, FairBuilding was able to raise a total of PHP 30,300 monetary donations. This means that FairBuilding was able to secure 320 hygiene kits to be distributed to our affected citizens.
As of the moment the hygiene kits are being delivered to our partner organizations namely: Trimex Colleges, Tulay Lingap ni Padre Pio, Inc., Good Neighbors Ph, Virlanie Foundation, Habitat Philippines, and Love Education, who will then distribute it to the specific affected communities and families.
The FairBuilding team would like to express its gratitude to Matthias Krups, BCI Asia Philippines and employees for their support and generosity. In our own little way, we are able to help ease the discomfort of our kababayans who were left devastated by the typhoons.