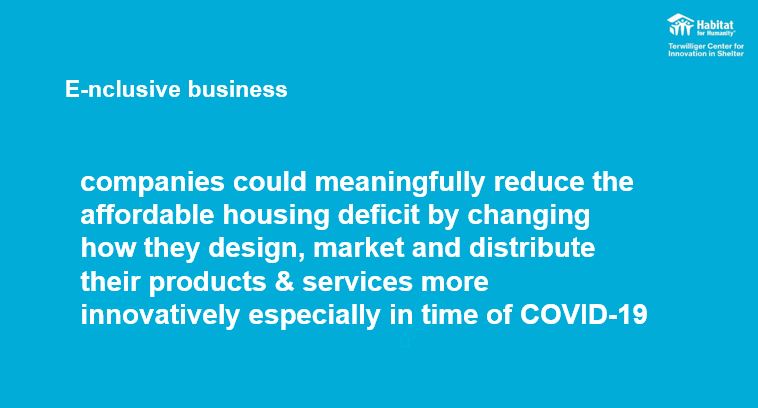 One of the main topic of the latest webinar session is inclusive business during this time of pandemic. For this discussion, Fairbuilding invited Mr. Jessan Catre who leads the Philippine Shelter Venture Lab for Habitat for Humanity's Terwilliger Center.
The talk revolved around how inclusive business can bridge the gap between businesses and the base of the pyramid when it comes to the housing market system.
Mr. Catre discussed how the low-income housing market system was already burdened before the pandemic and how the current Covid-19 is deepening the crisis. One of the reasons is that the housing projects in the country are expected to be delayed. According to National Housing Authority, this may cause a 12 % decrease in house completion projects and 32% decrease in housing units.
With this the Habitat for Humanity's Terwilliger Center promotes stronger coordination and collaboration between the private, public, and non-profit actors who can help revitalize the sector if immediate action is taken to boost demand and supply in housing market systems.
The talk ended with a call to push for e-nclusive business: calling for innovations, attention, and investments into the unserved segment of the housing market.
To know more about how Habitat for Humanity's Terwilliger Center supports inclusive business opportunities, visit their website at habitat.org/tcis.